This is a sponsored post.  All opinions are 100% my own. #Grouponcoupons #ad #spon
Hands down, this summer has been the most fun summer our family has had in a very long time!  We are spending a lot more time outdoors and hanging out with friends and family taking in the mermaid life and salt life (for the guys;) Keep reading to check out my recommendations for a fun-filled day on the sandbar using GROUPON coupons!

This has been a pretty big year for us…I was able to find a job that satisfies a lot of my family's needs, we sold our first home that we lived in for about 11 years, and WE BOUGHT A BOAT!  A few of our friends have boats so we knew how much fun a day out on the sandbar could be, plus my husband and son both love fishing.  When the opportunity arose to buy a new toy my husband was set on buying a boat.  Hey, this mermaid right here is not complaining!
We are pretty lucky that our boat actually came with a lot of the gear that needs to be bought when owning a boat, so we had a little to splurge on the other goodies that go hand in hand with living the salt life ❤
If you haven't discovered GROUPON coupons yet, you must…you just must!  
I was already a huge fan of GROUPON and all they offer in terms of products, services, getaways, and especially things to do 😊 When I found out about their coupons, which could be used in-store or online, it was a no-brainer!

There are 5 must-haves for sandbar summer fun!!!
Swimwear
I had no idea swimwear was such a thing! My teenage daughter is obsessed with cute swimwear…it is all about quantity! The more she can own the better! I found some really cute bikinis for her on the Sears website using a GROUPON coupon for $15 off! I also picked up some board shorts for my husband and son and a few cute suits for myself
😏
Photo Credit: Sears website
Sunscreen
While I definitely don't mind soaking up the sun, the health of my skin and my family's skin is a top priority!  Both of my kids are very active out on the water so I use something easy to apply with a high SPF.  I love this brand on
Vitacost
!  Alba Botanica is cruelty free and Leaping Bunny certified 
❤
GROUPON has a 20% off coupon for Vitacost right now!
A Good Book
I am a huge reader…reading for me equates to relaxation
❤
  When I want to disconnect out on the watrer, a book is all I need!  I can't wait for the new Harry Potter book to come out!  I am the parent that probably bought your kid a Barnes & Noble gift card for their birthday.  Right now, I can get 15% off one item plus free shipping on orders over $25 using a
GROUPON coupon
 at Barnes & Noble.
Sunglasses
While my daughter is obsessed with swimsuits, I myself have a little problem with sunglasses.  I love retro looking sunglasses that really make a statement.  I was able to find these really cute vintage floral sunglasses on the
JCPenney website
and with a
GROUPON coupon
for 25% off my entire purchase, who is to say I can't pick up a few more pairs
😏
?!?!
Time to Float
A day out on the sandbar is not complete without a really comfy flotation device!  In a sea of boring float, be a flamingo!  I like to divvy up my time on the water and float blissfully on the waves without a care in the world
❤
I was able to find this adorable pink flamingo at the Bed, Bath & Beyond site and there is a GROUPON coupon available for 20% off! They also had a doughnut, swan, and slice of pizza LOL These floats nowadays are too funny!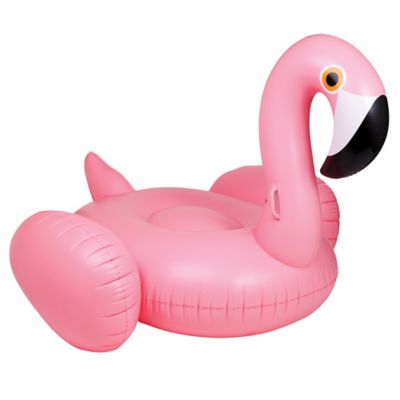 What are your 5 summer must haves?